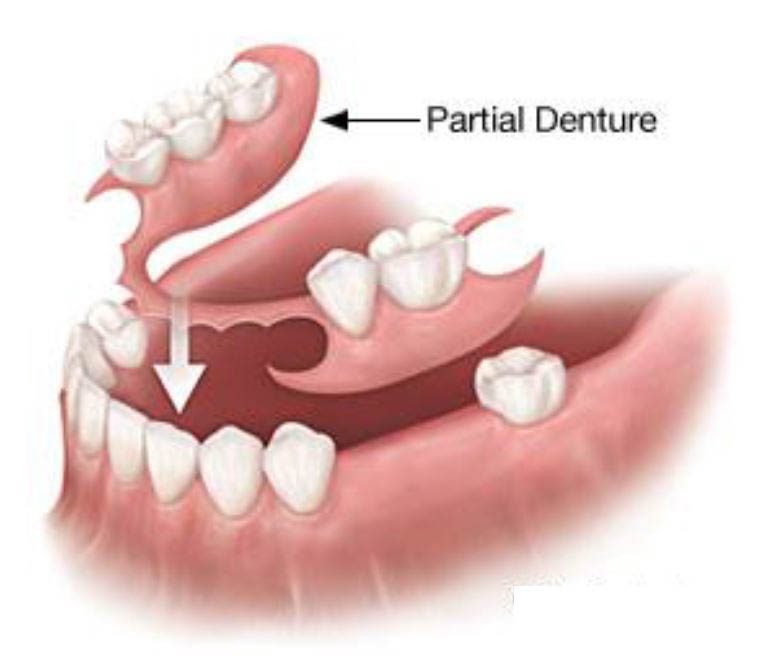 A denture is a removable replacement for missing teeth and surrounding tissues. Two types of dentures are available — complete and partial dentures. Complete dentures are used when all the teeth are missing, while partial dentures are used when some natural teeth remain.
Will Dentures Make Me Look Different?
Dentures are made to closely resemble your natural teeth so there should be only a small noticeable change in appearance. In fact, dentures may even improve your smile and fill out your facial appearance.
Will Eating With New Dentures Be Difficult?
Eating with new dentures will take a little practice and may be uncomfortable for some wearers for a few weeks. To get used to the new denture, start with soft foods cut into small pieces. Chew slowly using both sides of your mouth. As you get used to new dentures, add other foods until you return to a normal diet. Be cautious with hot or hard foods and sharp-edged bones or shells. And, avoid foods that are extremely sticky or hard. You should also avoid chewing gum while you wear the denture. Also, don't use toothpicks while wearing dentures.
Full Mouth Dental Implants
If you are missing all of your teeth, an implant-supported full bridge or full denture can replace them. Dental implants will replace both your lost natural teeth and some of the roots.
What are the advantages of implant-supported full bridges and implant-supported dentures over conventional dentures?
Dental implants provide several advantages over other teeth replacement options. In addition to looking and functioning like natural teeth, implant-supported full bridges or dentures are designed to be long lasting. Implant-supported full bridges and dentures also are more comfortable and stable than conventional dentures, allowing you to retain a more natural biting and chewing capacity.
In addition, because implant-supported full bridges and dentures will replace some of your tooth roots, your bone is better preserved. With conventional dentures, the bone that previously surrounded the tooth roots begins to resorb (deteriorate). Dental implants integrate with your jawbone, helping to keep the bone healthy and intact.
In the long term, implants can be more esthetic and easier to maintain than conventional dentures. The loss of bone that accompanies conventional dentures leads to recession of the jawbone and a collapsed, unattractive smile. Conventional dentures make it difficult to eat certain foods.